Uniform
We place great emphasis on the value of school uniform which is worn during class hours and when pupils take part in school visits.
Our Uniform
The pupils are expected to wear black school trousers. Please avoid those with a low waistband which allows the abdomen, lower back or underwear to be visible. If it is impractical for pupils to wear formal school trousers due to their physical difficulties, smart plain black jogging bottoms may be worn. Whilst the majority of pupils wear school trousers, a black skirt of suitable length is acceptable. During the summer months some of our younger pupils wear bottle green gingham school dresses which are widely available.
Plain black shorts are required for PE lessons in addition to either a t-shirt embroidered with the school logo or a plain white round necked t-shirt. Trainers or canvas gym shoes are also required. Pupils will not be able to participate in PE lessons if they do not have suitable footwear. We recommend that all pupils wear the school baseball cap in warm weather.
Shoes and boots should be a plain dark colour with a sensible heel and of a design that fully covers the foot and holds it safely and securely.
We recommend that pupils bring in a waterproof coat with them all year round. In the winter months, a warm coat, hat, gloves and wellingtons in the event of snow are required. If pupils do not have clothing suitable for the weather this restricts the activities in which they are able to participate. ALL ITEMS OF CLOTHING MUST BE CLEARLY MARKED WITH THE PUPIL'S NAME, as this helps greatly in recovering lost property.
Jewellery
Jewellery should be limited to a watch, one flat signet ring and one pair of studs or sleepers in pierced ears. In practical lessons pupils may be required to remove jewellery on the grounds of hygiene and safety. In PE lessons pupils must remove all items of jewellery, including earrings, on the grounds of safety as instructed by North Yorkshire County Council.
Logo Embroidered Uniform
Laughing Whale are pleased to be able to supply school uniform to our students. Their garments are of a good quality hence the slightly higher price.
If you would like to place an order please click on the following link: www.laughingwhaleschools.co.uk where you will see the Welburn Hall School tab to place your order.
We are pleased to announce that Tesco F&F have started to restock school uniform - please use the link below.
Tesco F&F Uniform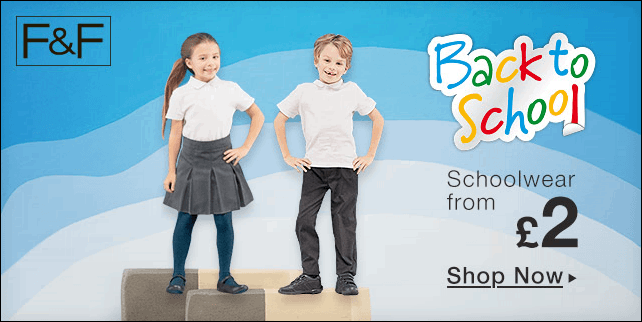 Image result for tesco f&f school uniform